Elephant Safari in Jaipur
Jaipur, famously renowned as the pink city is the royal capital of India's largest state, Rajasthan. Jaipur breathes royalty and wealth. With its gigantic forts, alluring palaces and enormous lifestyle, this city well reminds us of the royal era. If these poised attractions do not tend to mesmerize you, then you could always experience the grandness of it by taking an elephant ride in Jaipur. It would definitely be a great experience for you to recall for years. Every year hundreds of tourists flock towards the Amber Fort just for this majestic ride. The beauty of these animals decorated in royal colors would definitely ensorcelled you. These enthralling animals also showcase a great amalgam of painted colours which reflect beautifully. This joy ride takes you to the entrance of the Amber Fort, up the steep slope. It is definitely a ride worth taking.
This activity will be much loved by kids and elders alike. You can opt for the famous elephant ride to Amber Fort or go around Amber town or the Old Pink city to enjoy views of the busy markets, beautiful monuments, and more. Taking a jungle or a village safari is also an interesting option and is sure to give you memories of a lifetime.
Namaste Guests! You are more than welcome in India. We are giving a platform to interact with the giant but kind animal 'INDIAN ELEPHANT.' Symbol of good luck and prosperity in Hinduism. How's the life of an Indian elephant, what do they eat and drink, ride, feed, washing and paint. All you can do at one place with us and moreover our elephants are treated very well, so give us a chance to serve you and hope this will be your one of the best memories from India.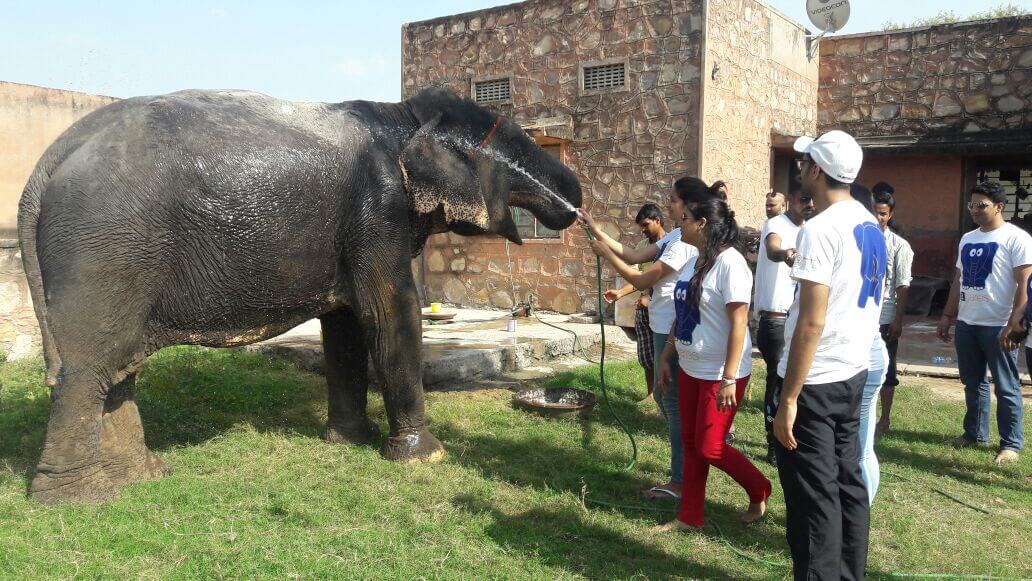 Elephant Ride in Jaipur
Elephant Rides in Jaipur can be enjoyed at Amber Fort, Jalmahal Lake, and in the Old City. Elephant rides at Amer Fort cost up to INR 1000 for both ways. Tourists can book with Elefanjoy and Elefantastic, which are local operators for elephant safaris in Jaipur. Elephant safari prices in Jaipur can be negotiated with the owners during the off-season.
Elephant village in Jaipur is definitely one of the most interesting places to spend time at. The location of the village which is set-up amidst Aravali Mountains adds to the fun and makes it a bespoke travel opportunity and one of the best things to do in Jaipur that can also be incorporated in your Jaipur tour packages. A day with Elephants – with Vedic Walks is a unique and offbeat activity to offer a memorable Elefantastic day to our guests in Jaipur not only by engaging in fun activities with Elephants but also giving it back to the community by spending some time the local community members. It is an Eleday with lots of Elefun. Even if you do not wish to take an Elephant safari in Jaipur, we recommend you to visit Elephant village in Jaipur and spend quality time praising their beauty. Although, if you missed out Elephat safari at Amer Fort, Elephant village will be an apt place for taking an Elephant safari in the natural surroundings.
Riding Elephants at the Amber Fort
India is packed with temples and forts and Jaipur is no different. Jaipur is home to the Amber Fort, a fort that overlooks Jaipur from its hilltop position. India is famous for its very pushy touts and "official tour guides." As we walked into the fort we were swarmed by men selling trinkets, men offering to be our guides "for a cheap price," and children asking for rupees for food. We have been dealing with this all over India but we hit a whole new level in Jaipur. It would only get worse as we would head to Agra.
The best thing to do is to ignore everyone and keep walking, but it does really get annoying to always have people in your face. Tim learned that if he starts videotaping them they tend to walk away. For three times the price of our rickshaw for the day, we hired two elephants to carry us up into the Amber Fort.
So, what is it like riding an elephant up to the entrance? It is slow, it is hot, and it is a bit uncomfortable. It takes about 20 minutes for the entire ride and the whole time, touts are very aggressive and highly annoying, as they try to sell you trinkets and souvenirs. Since you are stuck on top of the elephant, all you can do is ignore them, but their presence makes this experience very unpleasant.
Best Time To Visit Amber Fort for Elephant Ride in Jaipur
The best time to visit the fort would be early in the morning around 9:00 AM to beat the queue for taking an elephant ride. It is challenging to get hold of a trip during the tourist season because by then all the elephants are exhausted haggling passengers to and fro.
Ticket Price for Elephant Ride at Amber Fort
The fare for this ride does not vary from day to day and remain constant for both adult and child. The fare for an elephant ride for an Indian national would cost INR 650 per person. The trip starts at 8:30 AM every day and ends by 12:00 AM.
Welcome to the tranquil, lucid natural route of the elephant ride in Jaipur. You and your children will have life-changing experiences from spending time with these graceful elephants at the Elephant village in Jaipur. As you stroll side by side with these graceful gentle giants, you will have the chance to view Asian elephants in their natural environment. You will learn about the biology, behavior, and conservation status of these beasts during this guided tour of an elephant ride in Jaipur. Elephants are free-ranging animals, so because your tour guide is also one, you may unwind and take in the mysterious beauty of nature without being concerned about the passing of time. We also offer incredible Jaipur day tours. Contact us right away to learn more and reserve tickets for Amber Fort.
An incredible experience to remember: Jaipur's elephant activities
Yes, we are thrilled and would like to experience an elephant ride, but we advise our customers to stroll rather than ride the elephants. A wonderful opportunity to interact closely with these endearing animals in the Asian bush is to go elephant walking. Stroll alongside the elephants, observe them eating, and take in their quiet, graceful steps. As you have more opportunities to interact with elephants, you may express your genuine love and affection for them. Why consider rethinking? For more details about what to do in Jaipur, get in touch with us. The greatest elephant activities in Jaipur will be recommended to you by us.
Excellent time spent with elephants
Discover the vibrant world of the Jaipur Elephant Ride and Sanctuary!
Jaipur, India, has an elephant sanctuary.
An established and well-known sanctuary for elephant rides in Jaipur has been providing its services for more than ten years. A caring elephant center and an elephant contact program. Welcome to the most bizarre nature walk where you may coexist with relaxed creatures and stroll through a peaceful setting for an unforgettable experience for elephant activities in Jaipur. The business offers the top elephant rides in Jaipur and the nearby areas.
stroll among elephants inside the sanctuary.
Everyone is enthusiastic and eager to experience an elephant safari. A tiny activity called "Walk with Elephants" gives you the incredible opportunity to get close to these stunning animals.
you stroll beside elephants. You will have the opportunity to interact with elephants through this. More and more, and it's via this that you may convey how you feel about them.
We provide this activity because it's fun for you and much better for the elephants who live here. The best elephant sanctuary in Jaipur.